Lecuyer's Lodge Trophy Moose Hunting
CLICK HERE TO VIEW OUR TROPHY MOOSE HUNTING RATES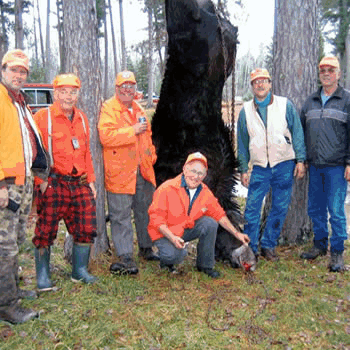 Lake of the woods region, host some of the finest Canadian hunting. Lecuyer's Canada Lodge, the Lecuyer's family and their staff of top professional hunting guides, hold a world class reputation for offering the finest in fair chase hunts in the Ontario wilderness. Whether you are hosting a corporate outing or a private group, our skilled guides will ensure the finest Canadian hunt possible for, Trophy Canada whitetail deer, Ontario moose, and bear, including combo hunts. Ontario is also host to some of Canada's finest water fowl, a large verity of ducks and geese, and up land game including grouse. This is all based out of our great hunting lodge. Specializing in all inclusive package plans, for sportsmen, families and corporate groups. Outstanding accommodations, meals, equipment and service, a family built, owned and operated resort since 1946.
Lecuyer's is located in a very unique area, offering excellent white tail hunting areas, as well as boasts some prime moose hunting opportunities. We have some vast areas that have timber harvesting taking place. These are ideal locations. The region boast nice pockets of animals. All areas are pre scouted by our pro hunting staff to help insure your success. We hunt both the "caps" cut over ridges and around the many small lakes and swamp areas. These are some of the largest bodied moose in North America. We take nice racks each year ranging from 38" to 55". The package hunt is truly all inclusive, you need only bring your personal gear, guns and ammo. We provide all transportation to and from hunting areas, using newer 4/4 trucks and 4 wheelers. Nothing is spared to help in both finding and helping to get your trophy out. You are provided One pro staff hunting guide for each 3 hunters in your party. We also offer combo big game hunts such as moose & deer. After harvesting your moose the fishing and grouse hunting is as good as it get's! Additional guides are available at your request. A complete information package will be forwarded to you and your group once your booking has been confirmed with the lodge. As we have only a limited number of trophy hunts available each year you should contact the lodge well ahead of your targeted hunting dates to avoid disappointment in not getting to hunt this year or next.
COMBO MOOSE & WHITETAIL DEER HUNT AVAILABLE !
Call Toll Free 1-800-201-2100
Direct Phone 1-807-484-2448
Email: lecuyerslodge@gmail.com

website hosted by Canadian Hosters