Lecuyer's Lodge Trophy Bear Hunting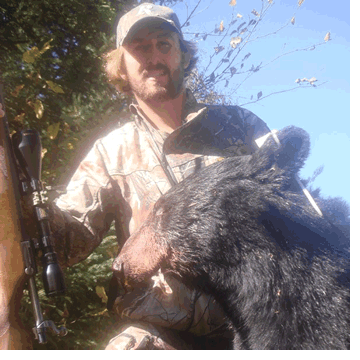 Lecuyer's Canada Lodge is located in an area which supports a very healthy bear population. Part of the reason we can offer such a high success rate for our hunters, is the size of our bear hunting area. We have over 30 miles of lake shoreline that we can bait off of. Add that to over 20 miles of logging trails! We also maintain our own conservation by limiting the dates of hunts as well as the number of hunters we accept each year. Most of our bait sites are accessed by use of 21' boats w/150 hp motors some by 4 x 4 truck and still others by 4 wheelers. This is a high quality bear hunt, along with free fishing!
Lecuyer's Canada Lodge's Pro Staff hunting guides select and diligently service all bait sets. We ensure your safety by using safe and reliable tree stands. Lecuyer's also has its own commercial kitchen allowing us to save "all the good stuff " that bears love for bait! From old bread and pastries to left over french fries and used fryer oil we have all the main thing to add to our other ' secret ' proven baits. Your guide will work with you throughout and after your hunt, including tracking field dressing. They will take proper care of your meat and trophy hide while getting it back to camp. Back at the camp we have our own walk in cooler and butcher shop so you can be assured that your meat will be placed into a proper environment so it will not spoil. Lecuyer's offers discounted skining and butcher services for our guests also and can ship your trophy and meats if required. Hunts operate starting the third week of August and go through to the first of October. Ensuring your highest possible success and the best quality of your trophy hide.
If your a single hunter, no problem we can help! If your a hunter and your buddy just wants to fish, no problem we can help you!
We offer both bow and muzzle loader hunts as well as rifle and shotgun and run camera only hunts at reduced rates.
.
COMBO BEAR & WOLF HUNT ALSO AVAILABLE !
Call Toll Free 1-800-201-2100
Direct Phone 1-807-484-2448
Email: lecuyerslodge@gmail.com