Lecuyer's Lodge Corporate Outings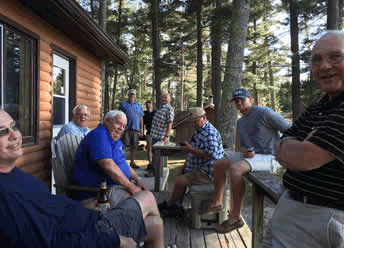 Why no have your next meeting, sales, marketing or incentive program in a most unconventional setting, free from the normal kinds of ruts and stagnant routines, far removed from any interference and in the safest of environments.
What better place than the serenity and beauty on Lake of the Woods to hold your next group meetings, host professional seminars or reward your Star Team players. And, it's the finest way of thanking top buyers for their continued support. Give a memory that will last a lifetime! We can provide all fishing rods and reels as well as top quality rental guns if one of our hunting package of is interest you. We specialize in providing all inclusive, professional, Canada fishing and hunting accommodations for business groups, sportsmen and their families.
As we can only accommodate up to 56 guests in our cottages at one time, you and your group are guaranteed to be our STARS! Large enough to handle and support your group's needs, yet not too large to the point where your group seems to be a part of, or are second to a larger group, which can happen in those larger places. And you'll be glad to know that our lodge is private and not open to the public! You're not just another pretty face her! We are not new to this business. Our family has been celebrating great pride in being first in service and in our flexibility in serving all of our guests' needs. We're proud of the fact that our prices are all up front with no surprises or add-ons at trip's end. Our accommodation are all up-to-date and immaculately clean, our equipment top-notch. Our location offers towering pines and clean, landscaped grounds overlooking the lake and facing the west. Our fully licensed main lodge is a very cozy, warm and friendly place overlooking the lake. Inside you'll find many fine exhibits, wildlife mounts including several ducks flying over our bar, old documents and artifacts from the 30's, 40's,50's and 60's.From our kitchen where chef will expertly prepare meals with a northern touch, complemented by our own homemade breads, pies and large salad bar.
Only 50 minutes from the lodge are two most exciting and challenging of golf courses in northwestern Ontario. Your package can be arranged to spend time on this 18 hole 6,408 yard course. Fishing and golfing, now there's a unique trip to be sure! Your trip to Lecuyer's Canada Lodge for your business associates and your customers will truly be a winning combination. We can reserve all of our cottages exclusively for you with a minimum of 38 guests booking. We have put together the most exceptional, all-inclusive, value-conscious package found anywhere in our industry today, bar none.
We love corporate groups. We have our very own special packages at reduced rates for both fishing and hunting. As well, combination fish/hunt packages. Great fish, great hunt, great food, great lodging, great service, easy to reach = smart decision.
Put the odds in your favor. Take advantage of our 60 plus years genuine, trustworthy, professional and reliable service. Contact us now for more complete details and available dates.
Email for a complete quote, provide us with the type of trip ie: fishing, hunting along with dates interested, number in group, we'll work with you to provide you an exact cost lecuyer@earthlink.net
Canadian Office
P.O. Box 55, Nestor Falls,
Ontario, Canada P0X 1K0
Call Toll Free 1-800-201-2100
Direct Phone 1-807-484-2448
Email: lecuyerslodge@gmail.com

website hosted by Canadian Hosters